Wordpress.com Review
The first thing to say about Wordpress.com is it's *not* Wordpress. Now that I've thoroughly confused you, please allow me to explain!
When people talk about Wordpress, they commonly mean the hugely popular (172 million websites or 34% of ALL websites by some measures) open-source content management system Wordpress.org which is usually downloaded and self installed on a web server by yourself or commonly installed by someone else and managed by you. There's a huge (and I mean huge) array of plugins which can be used to transform your Wordpress installation from what was originally a simple blogging system into a full Ecommerce experience or extend it to support chat forums, digital downloads, real estate sales and more.
Instead, Wordpress.com is built on top of Wordpress.org but it has a much more streamlined and simplified interface which is closer to what you might expect to find in a website builder. And crucially, with WordPress.org, YOU host your own blog or website. ... WordPress.com, on the other hand, takes care of all of the hosting for you. You don't have to download software, pay for hosting, or manage a web server, again much closer to other website builder offerings. This is a big deal because hosting a Wordpress site can be pretty challenging especially when you are trying to manage the commonly experienced performance issues when you load your site up with lots of plugins.
This means that it's dead easy to get started with Wordpress.com - you can have a website up and running within minutes, not hours. The downside is that you can't install all Wordpress.org plugins or add HTML code or even get file or database access - it's all effectively a walled garden where you have to take what you are offered. You can't even upload your own themes from the vast libraries that are available to regular Wordpress users!
There are downsides, though. WordPress.com isn't a drag-and-drop editor. As with WordPress.org, editing is based on forms and you modify design and content separately. As with WordPress.org, that creates a big problem. You can't edit a page and see the result in real time because you work with words and visuals separately. You also run into the problem when making design choices. Whether it's a font or color palette, you modify it from a small list of options, but you don't see the results instantly. That breaks the website building process.
That said, if your use case fits what is offered by Wordpress.com then it's a whole lot easier to use their service than to have to manage your own web servers and Wordpress installation yourself. And, that use case is mainly blogging - if you run a blog then I would say that they really have the best blogging feature of any website builder on the market today with a more user-friendly editor than even Wordpress.org.
There's a decent selection of themes to choose from (293 at the time of writing this article) and the option to search them by genre, style or feature. Of the 293, 130 are available on the Free plan and 183 on any of the Premium plans.
When you first create an account, there's a pretty slick way to choose a theme though which involves using your business type and sector to automagically pick an appropriate design. If you haven't added your own domain, your website is immediately live on the internet under the URL yoursitename.wordpress.com. If you do have your own domain you'll need to configure it to point to your new site by following the simple instructions.
You can of course switch themes after you've made this selection. There is no preview though— you just sort of guess and test. (Website builders such as Squarespace and Weebly have a more intuitive approach).
Blog
Not surprisingly given it's Wordpress pedigree, the Wordpress.com blogging system is excellent. It support tags, categories, drafts, future (time based) posts, featured images, automatic post sharing, custom permalinks and lots more. A nice feature that's not found anywhere else except in the Wordpress ecosystem is that you can give access to a team of writers who can all contribute to your blog.
It's nicely set up for social as well as you can configure it to automatically send new posts to Twitter, Facebook, and other social platforms. There's also drag and drop built in for adding images and other media types into posts and pages so no manual file uploads.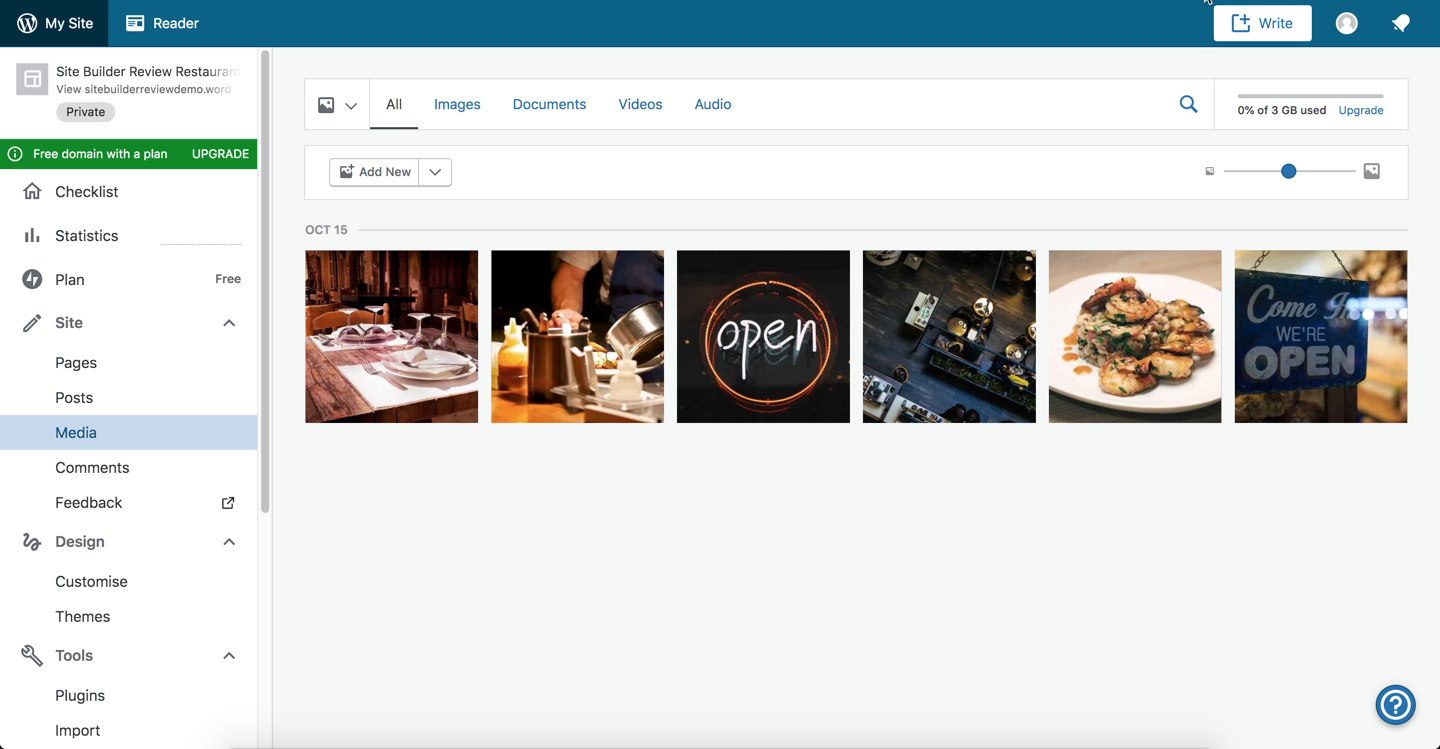 Overall, Wordpress.com has the best blogging capabilities of any website builder.
Ecommerce
The Wordpress.com Ecommerce offering exists under a separate plan and allows you to add fairly basic store capabilities. You can choose between Paypal Standard or Stripe as a payments provider and a flexible promotions (e.g. coupons) editor lets you add discounts and coupons that apply when certain rules are met. Products can be categorized and have variations. Sales tax can be calculated automatically for you via TaxJar which is a third party service and product reviews are also supported.
If you need anything more advanced it's worthwhile adding the WooCommerce plugin for your store which unlocks the full suite of WooCommerce store capabilities including advanced shipping rate calculations, adding additional payment gateways, or importing/exporting inventory levels.
Apps
iOS and Android apps let you check analytics, write blog posts and respond to comments.
Automatic migration from self hosted Wordpress
Wordpress have built in an integration to Jetpack which can be used to migrate your existing Wordpress.org installation to Wordpress.com. We tested this with a fairly basic blog setup and it worked seamlessly; your mileage may vary if you have something more complicated set up particularly in terms of plugins.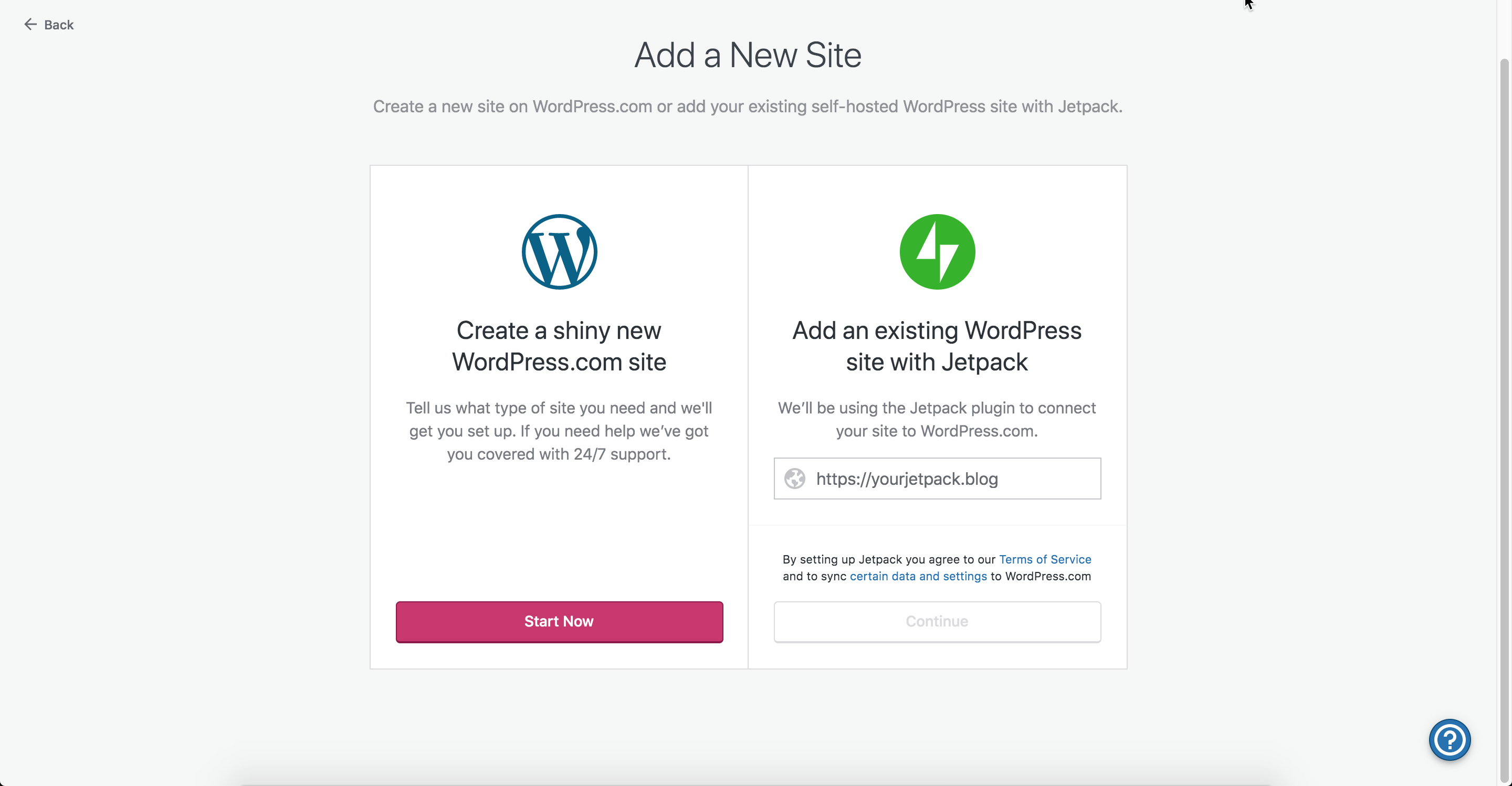 Within the Wordpress ecosystem, extra functionality and features that are provided via Apps in other website builders are instead called plugins. And, there are a dizzying number of plugins - somewhere around 54,000 in all. However, only around 20 of the most popular plugins are natively available on Wordpress.com (see list here: https://en.support.wordpress.com/plugins) and if you want to install any of the remaining 53,980 plugins you'll need to pay for a more expensive Business or ECommerce plan. Note, some Wordpress.org plugins are incompatible with Wordpress.com, you can check your plugins here: https://en.support.wordpress.com/incompatible-plugins/.
One pain point which speaks to the slight identity crisis that Wordpress.com has is that almost all plugins require that you exit the friendly Wordpress.com interface and use the Wordpress.org native WPAdmin interface. It's a little jarring and is an unfriendlier interface particularly for beginners. Indeed, replacing that interface was one of the reasons that Wordpress.com was designed with a different interface from the start. Even common elements— such as forms— have to be configured in WP-Admin. Of course, if you're an old Wordpress Pro you won't mind digging back into the old interface at times.
A free-for-life plan makes it easy to try the service out. Your site will have WordPress.com ads, 3GB of storage space, and basic themes and design options only. It also restricts you to a WordPress subdomain only (yoursitename.wordpress.com) and has only basic community support. Still, it's a decent enough system which is perfectly adequate for personal blogs, simple family sites, or just building up your WordPress skills.
Now onto the paid plans. First, you should note that all paid plans are billed annually so don't be deceived by the fact that they advertise a monthly amount. For what it's worth, I'm not a fan of this method of advertising prices, it seems rather underhand and sneaky.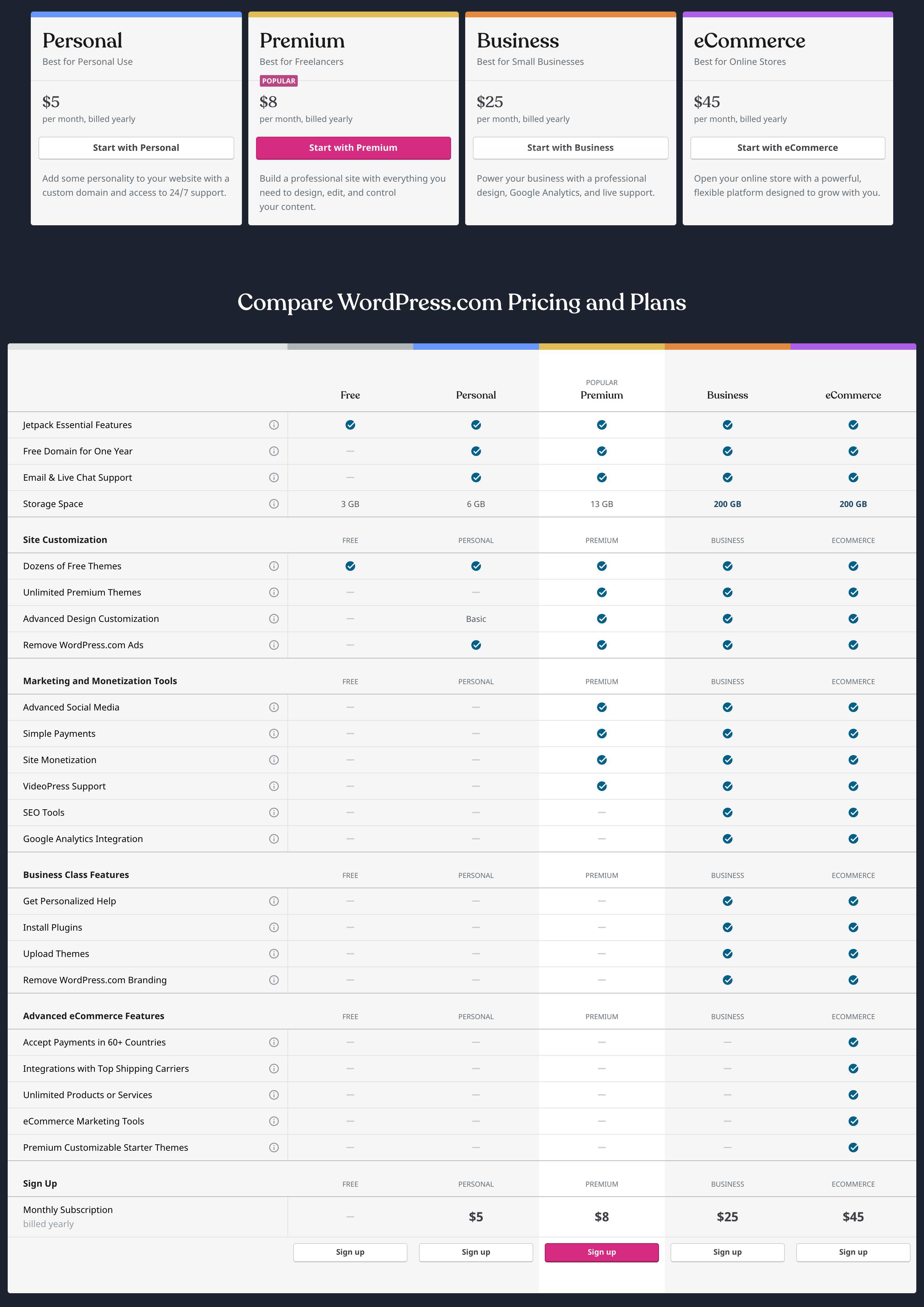 Personal Plan: $60 / year ($5 a month, billed annually)
This plan removes the WordPress adverts, allows you to use a custom domain name, grants access to email and live chat support, and removes those pesky WordPress ads. You also get additional storage space up to 6GB.
Premium Plan: $96 a year ($8 a month, billed annually)
The Premium plan Unlimited premium themes, advanced design customization, 13GB storage space, as well as options to monetize your site by signing up to an Ads program such as Google , get VideoPress support and the ability to sell through Simple Payments.
Business Plan: $300 a year ($25 a month, billed annually)
You'll get 200GB of storage, access to upload your own themes (e.g. those purchased from sites like Themeforest) and the ability to use any supported plugin within the Wordpress.org ecosystem. There's also live courses, SEO tools, plugins, uploadable themes, and Google Analytics integration.
Ecommerce Plan: $540 a year ($45 a month, billed annually)
Storage stays the same at 200GB but the main change is you can take payments globally (60+ countries), integrate with third party shipping providers and add an unlimited number of products or services for sale.
Pros
Best in class blogging capabilities and features
Free plan is quite generous, free for ever and actually suitable for personal use
Supports multiple websites
Generous range of Free templates
Cons
The editor doesn't support drag and drop like most website builders
Switching to Wordpress.org admin console whenever you make changes to plugins is jarring and inconsistent
Access to only limited built in plugins and themes unless you choose a Business or Ecommerce plan
Templates are mostly focused on blogging – you'll struggle if you want to build anything other than a blog
Sometimes it's hard to know where to edit content - is it part of the content or the theme?
WordPress.com is an excellent choice if you are looking to start your own blog and it comes with all the features you need to run a successful blogging website. There's better options available if you're looking to build a different sort of website such as an Ecommerce site.
WordPress.com is built on WordPress.org, which makes it stand head and shoulders above the rest of the competition when it comes to blogging. If you're serious about your blog (but want a simpler interface than WordPress.org), then WordPress.com is the place for you.
However, it's worth saying that if you're happy to learn full-strength WordPress (which really isn't that much more difficult) it's worth considering choosing a Wordpress.org host instead which should work out cheaper and give you more flexibility (although potentially also more management headaches).