Joomla Review
Joomla has been around since 2001 which means it competes with Wordpress for being the first open source CMS alongside Drupal and Wordpress. It's also one of the most popular CMS's with over 1.7 million websites actively using it as of October 2019 which is a market share of 4.1% amongst all CMS platforms and 4th on the popularity list below Wordpress, Wix and Squarespace.
Up until fairly recently, Joomla was exclusively a self hosted option much like Wordpress.org. That is, you had to build or rent a server, install the Joomla software on it and manage it on an ongoing basis. That changed in April 2018 when Joomla announced a collaboration with CloudAccess.net which allowed customers to sign up for fully managed free and paid Joomla sites. All sites are full Joomla instances with database and FTP access included and the ability to install extensions.
The basic difference between WordPress.org and Joomla is that Joomla was originally designed to be a portal or community type site while WordPress was originally built to be a blog. Since then, they have both benefitted from a huge number of third party plugins written by their respective communities which have extended their capabilities beyond measure. This means there is now considerable overlap between the two and they can both serve a wide variety of business requirements beyond their original design intentions.
The basic similarity between Wordpress.org and Joomla is they were both designed in the same era so as a result they are menu heavy, complex beasts that lack a lot of the beginner friendly, drag and drop, WYSIWYG (What You See Is What You Get) that all modern website builders support which allow newcomers to get productive almost instantly.
So, onto the initial setup. Creating your website couldn't be easier, just fill in the details in the form above. But, there's a snag. Somewhat confusingly, you can't login and will get a 'Login Details Incorrect. Please try again' error message until you have clicked on the verification link sent to your email address. This is not very user friendly - any sane system would present you with a 'check your email for our verification email' message instead of having to hunt down the possible reason at the bottom of the screen. Once that's done your account is activated and your sitename.joomla.com (note sitename must be unique) will be LIVE.
Once you're past that confusion and into the console you'll see all your sites listed. The free tier isn't great - no custom domain names, no SSL certificate, 500MB of storage and you can only keep the free site for as long as you login and click on the 'Renew' button in this console at least once every 30 days. So there's a bit of a dead man's switch situation (don't go on a long holiday which doesn't have internet access) so needless to say you'll need a paid plan for any kind of business offering. However, if you want a basic personal or temporary event site such as a wedding the free option it could be viable for you. The Cloudaccess console is where you can enable all the extra (Paid!) features for your website such as a custom domain, SSL certificate, site backups, GA integration and more.
Finally, clicking on the 'Login to Joomla' button and you're taken to a full Joomla admin control panel for your website and frankly you're in at the deep end at this point. No walkthroughs, simple setup instructions or videos to guide you, you'll need to do a bit of research on how to set up a Joomla website if you want to go any further. For example, do you want to add a new page to your single page default website?
Get ready… you don't simply ADD NEW PAGES like in other website builders, instead you create menu link items that link to articles that are in turn either uncategorized or assigned to Sections/Categories. You then need to create sections, then categories within the sections. Finally, you'll need to create a menu link item, select what type you want and then link to the article or whatever type of page it is. If this sounds impenetrable, it will be unless you read a beginners guide to Joomla at the very least.
What about editing a page layout? That's not simple either, it's very much a question of digging around the menu options and is frankly a world away from the drag and drop ease of market leading website builders such as Squarespace, Wix and Shopify. The good news is that there are multiple Joomla page builder extensions which give that drag and drop WYSIWYG capability but I really think that this should be included in all default Joomla installations.
We'll talk about the other aspects of managing a Joomla website over the following sections.
There's an incredible number of Joomla templates out there on third party websites such as Joom Shaper, JoomlArt and Rocket Theme. It's great to have variety is great of course, the downside is that the quality varies and due to the huge range on offer on multiple websites you could be searching for a while to find the perfect one.
Once you've chosen a template, you'll need to install it into your Joomla control panel. This is a great example of the complexity and overall lack of user friendliness of Joomla. There's a Templates option in the admin console so you can browse and install them from there right? No, of course not, this is Joomla after all. Instead, you'll need to first download a copy of the template file, click on Install Extensions in the control panel, then 'Upload Package File' and upload the file manually. In other words, unlike almost every other website builder there is no template browser built into the admin console.
One issue with most website builders is that you're locked into a single template or theme when designing your website. You get the same basic layout regardless of which webpage you visit. However, you don't get the same limitation with Joomla, as you're allowed to use multiple templates on your website. Want a different template for your blogs than for your primary webpage? No problem!
It's also possible to design your own theme, if you have coding skills and practice to do that. Professional web developers also create templates with Joomla users in mind – just browse the web to get the one that actually comes up to your needs and niche expectations. You can edit the template you've downloaded but this will require jumping into HTML, CSS and even PHP coding so for the uninitiated this is quite the daunting option.
Content management
With it's CMS background, as you would expect content management in Joomla is very powerful and actually has the edge on Wordpress in terms of the powerful administration tools on offer. For example, website users can rate articles, e-mail them to a friend, or automatically save a PDF. Administrators can archive content for safekeeping, hiding it from site visitors. On public Web sites, built-in e-mail cloaking protects email addresses from spambots. You can also set articles to expire after a certain time or activate on a certain date if you have a publishing exclusive which can't be shared with your readers until then.
Content editing
Creating content is simple with the WYSIWYG editor, giving even novice users the ability to combine text, images and formatting in an attractive way. There are a number of pre-installed modules to show the most popular articles, latest new items, newsflashes, related articles, and much more.
Content versioning
Content versioning allows you to track your article modification by version number to keep track of the changes that you and other site users perform. With this functionality you can also compare the changes, edit and delete the modified file. There's a handy comparison tool to highlight the difference between content versions and a switcher so you can easily roll back to previous versions.
Multilingual support
A great feature is that Joomla is multilingual out of the box. Unlike other parts of the control panel, installing new languages is a pleasure - just head to the Languages menu and choose which ones to install. You can then add a Language Switcher to your website to allow your visitors to switch between languages.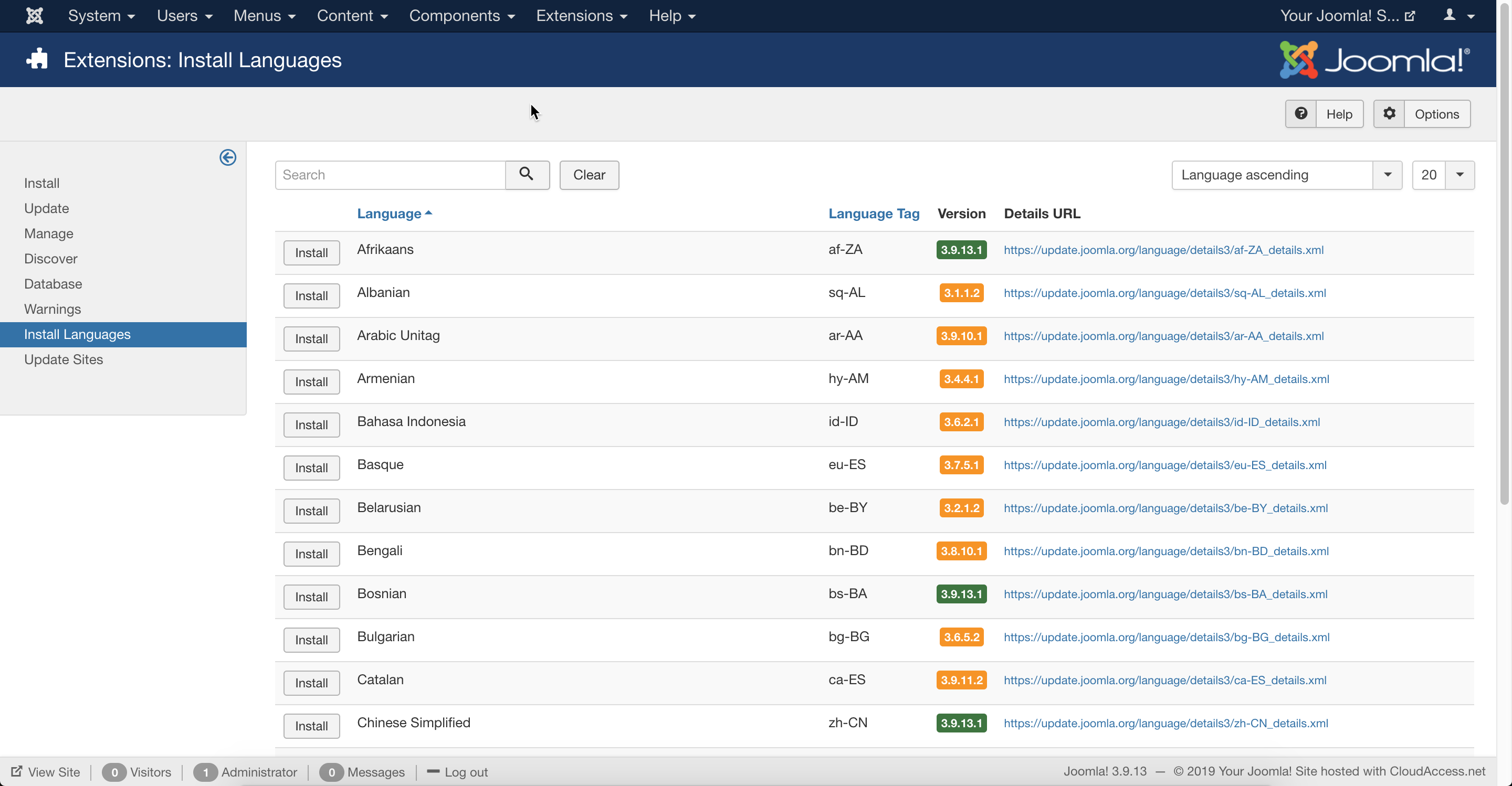 User management
If you want your users to be able to register to use your website, Joomla has a built-in registration system that allows users to sign up to your website and configure their personal options. There are multiple user groups with various types of permissions on what users are allowed to access, edit, publish and administrate. Authentication is an important part of user management and Joomla support multiple protocols, including LDAP, OpenID, and even Google mail. This allows users to use their existing account information to streamline the registration process.
The real power of Joomla (as with Wordpress) comes from it's equivalent to an App Store, the Joomla Extension Library. These are all immediately available to install within your Joomla control panel even on a free plan (although of course some extensions are paid so you will need to pay to get access to them). There are over 7,900 extensions at the time of writing in every category possible form Ecommerce through Marketing, Mapping, Content Sharing, Photo and image display and much more.
While they are all technically extensions, there are actually a number of different variants of extension:
Components are large pieces of software that you add to the actual Joomla framework application - things like Community Builder, K2, VirtueMart are components. They are the backbone of Joomla - everything resolves around them. Components can be manipulated in the back end and components usually come with additional modules and plug-ins relative to the software.
Modules are small pieces of software that also create visual features on the front end of your site, and there are usually configuration options in the back end of the site as well. Virtually every part of Joomla - the boxes, the images, the logos, the registration forms, the contact forms, the calendars, and so on are set up through Module Manager.
Plug-ins are smaller pieces of software running in the background of your site - think of them as robots performing subroutines for a bigger computer. When a component is really big and has to perform many small operations, it ships them to a plug-in which then tells a module to do the job. Users don't see the plug-in on the front end of the site, but they can see the effects of a plug-in.
As with the template installation, you'll need to upload the package file supplied by the developer to install your new extension, it can't be done directly via a simple button click from the Joomla control panel unlike in Wordpress.
All plans include Unlimited Bandwidth (subject to the usual caveats), a server hosted on 2GB RAM and 2 CPU cores, 20GB disk space, a free staging URL and unlimited email addresses added through the control panel.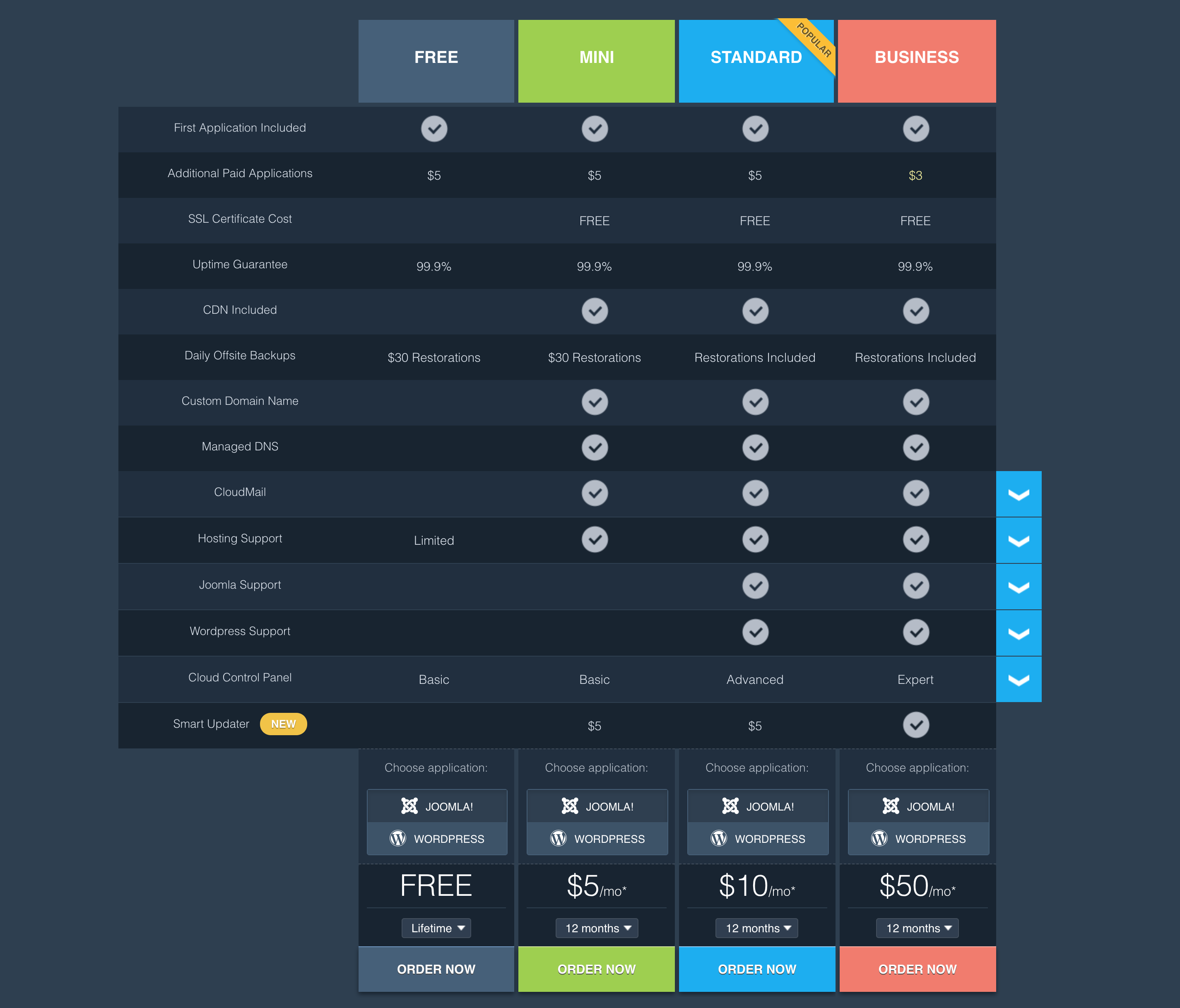 The cheapest Mini plan is $60 per year (they use the miserable trick of showing annual plan pricing as a monthly $5 price which we find rather disingenuous and misleading) or $10 month if you go for a month by month plan. Happily, this plan offers everything that you need with the exception of support and free restorations; depending on your requirements you may consider this suitable or not for your business.
Pros
Comprehensive and powerful extension library
Huge range of templates
Can use multiple templates (themes) within a single website
Unmatched value for money for Mini and Standard plans
Fully managed Joomla service so no need to patch, upgrade or maintain
Cons
Unwelcoming control panel unsuitable for Joomla beginners without lots of prior reading
No built in drag and drop visual website design capability
Plan options are limited by both memory and CPU
SEO extensions must be installed instead of being automatically enabled
Because of Joomla's powerful article creation, moderation, editing, versioning and management tools, Joomla is still an excellent choice if you want to create a web community or a network with a membership area, newsroom, forums, articles, input from external authors and that sort of thing. After all, that is what it was originally designed for and excels at. But, be warned, it's a steep learning curve for newbies.
Outside of this requirement we don't currently recommend Joomla.
Joomla has a huge install base for historical reasons due to the 18 years it's been offered as a CMS platform. Unfortunately, in many ways it's fallen behind the competition as it's overall structure and interface is rooted in some of the design decisions that were made long ago.
Like Wordpress, it's strength is in some ways married to it's complexity. It has an incredible number of templates and extensions which allow Joomla to do almost anything required of a website; but, and it's a big but, you'll need to become a Joomla master to truly take advantage of this. And with so many more accessible website builders on the market, why would a newcomer invest the time required to attain that mastery?