GoDaddy Website Builder Review
GoDaddy is a household name in many English speaking countries including the US, UK, Canada and Australia mainly through it's primary business of selling domain names and web hosting. However, it's not just limited to hosting services as you can also build your website directly with them using the GoDaddy Website Builder.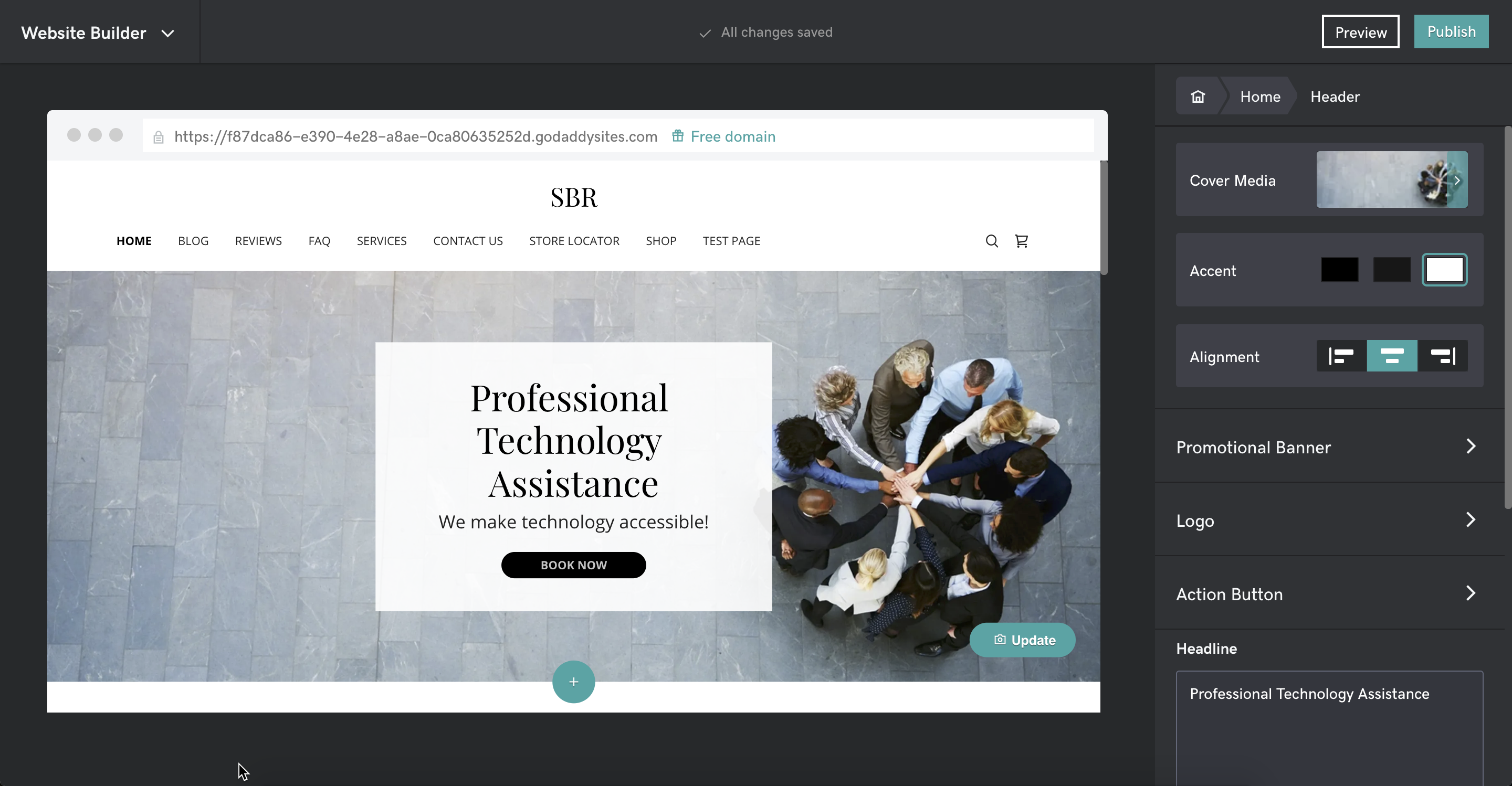 Somewhat confusingly, GoDaddy periodically update their website builder software and release it as a new version and it's now on version 8 which is almost a complete rebuild of their previous version. This is different to most competing website builders where the backend software is continuously updated and upgraded without any discernible or published version changes. Anyway, the stated goal for the latest version of their builder is to allow you to build a website in less than an hour. This is driven by what GoDaddy have said is important to their customers.
A nice feature of GoDaddy is that you can set up and manage multiple websites simultaneously through the 'My Products' page which lists all your active website designs. You then have a 30 day trial for each website that you set up and the trial days all count down independently from the date of creation. This contrasts with other website builders such as Squarespace where your trial is based on the date you created your account. When your GoDaddy website trial expires you can just go ahead and create a new website and start again if you wish.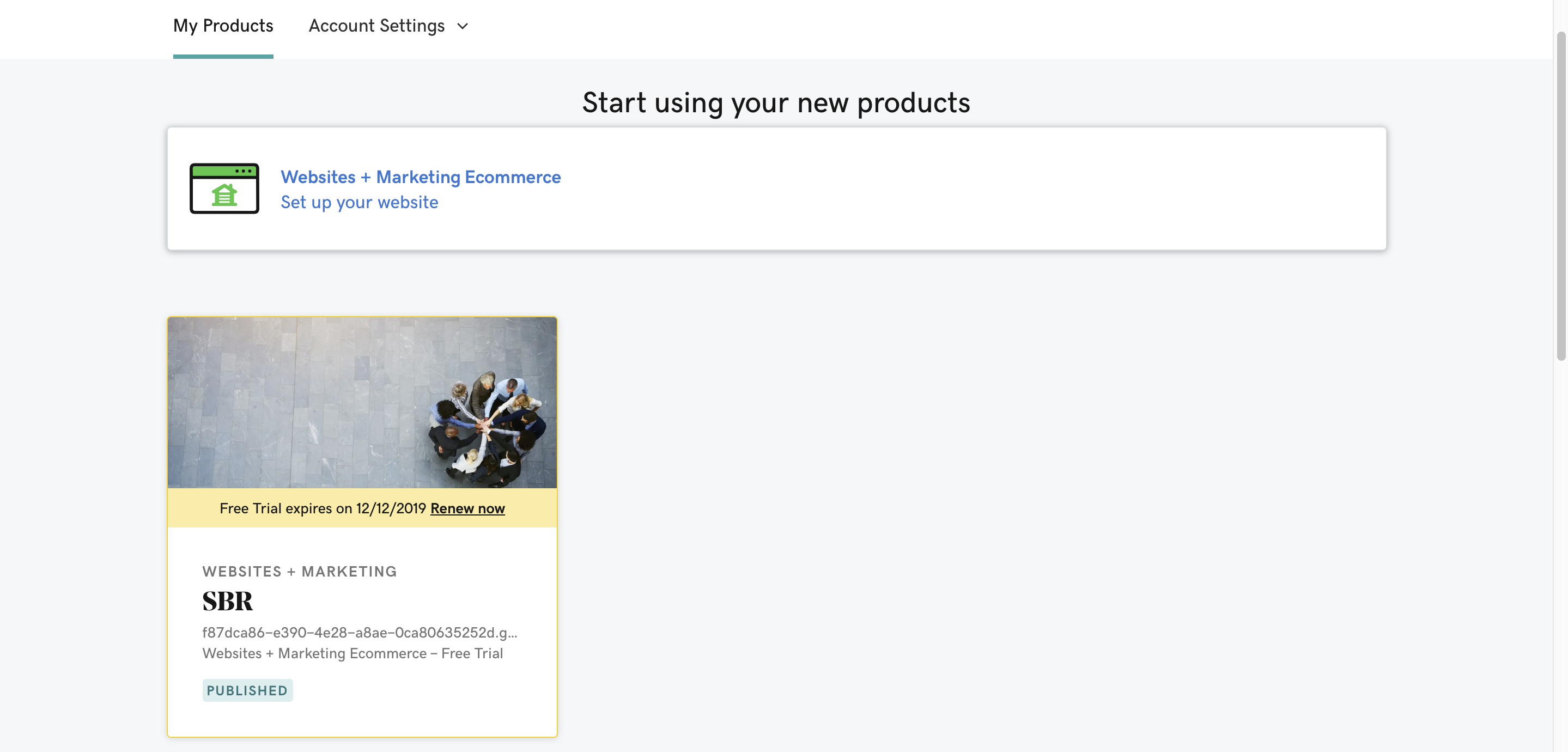 The on-boarding process is a simple one which just involves selecting from a list of business goals. The checked items then enable the selected features in the default website which is built for you to get started with.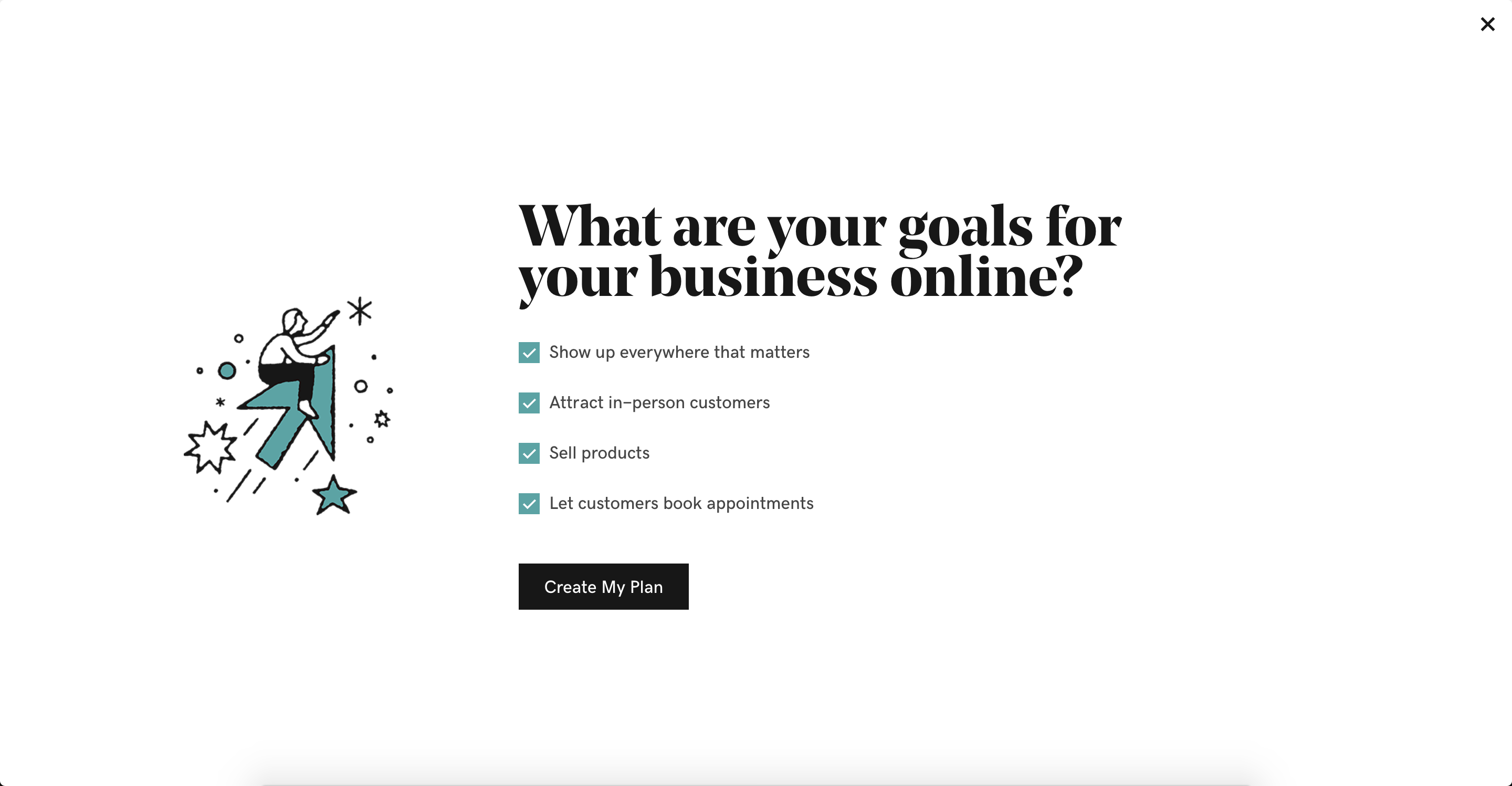 Like many other website builders including Squarespace and godaddy, the GoDaddy website builder divides your page up into sections. Sections are blocks of content that you stack vertically to make up each web page. It's super easy to add and edit sections - you just click on a section to edit and out slides the customization options for that section.
Adding a section is just a matter of clicking on the + button to add a section and selecting one of the available section types and to edit a section you just click it in the website preview pane which reveals all of the options which can be configured for that section. You can also add extra elements within the layout design of that section - for example, if it is rows of text with accompanying images you can add extra rows or edit / delete existing rows.
GoDaddy includes 58 different sections that you can add to a page. This includes standard content and contact us sections as well as more bespoke sections such as a restaurant ordering system which integrates with OpenTable, a Reviews section which integrates with Google, Facebook or Yelp reviews and Blog and product showcase options.
Here's an example of adding a new section:
As you can see, there's a decent range of layout options and GoDaddy have taken lots of measures to reduce complexity in their quest to simplify and speed up the website creation and editing process.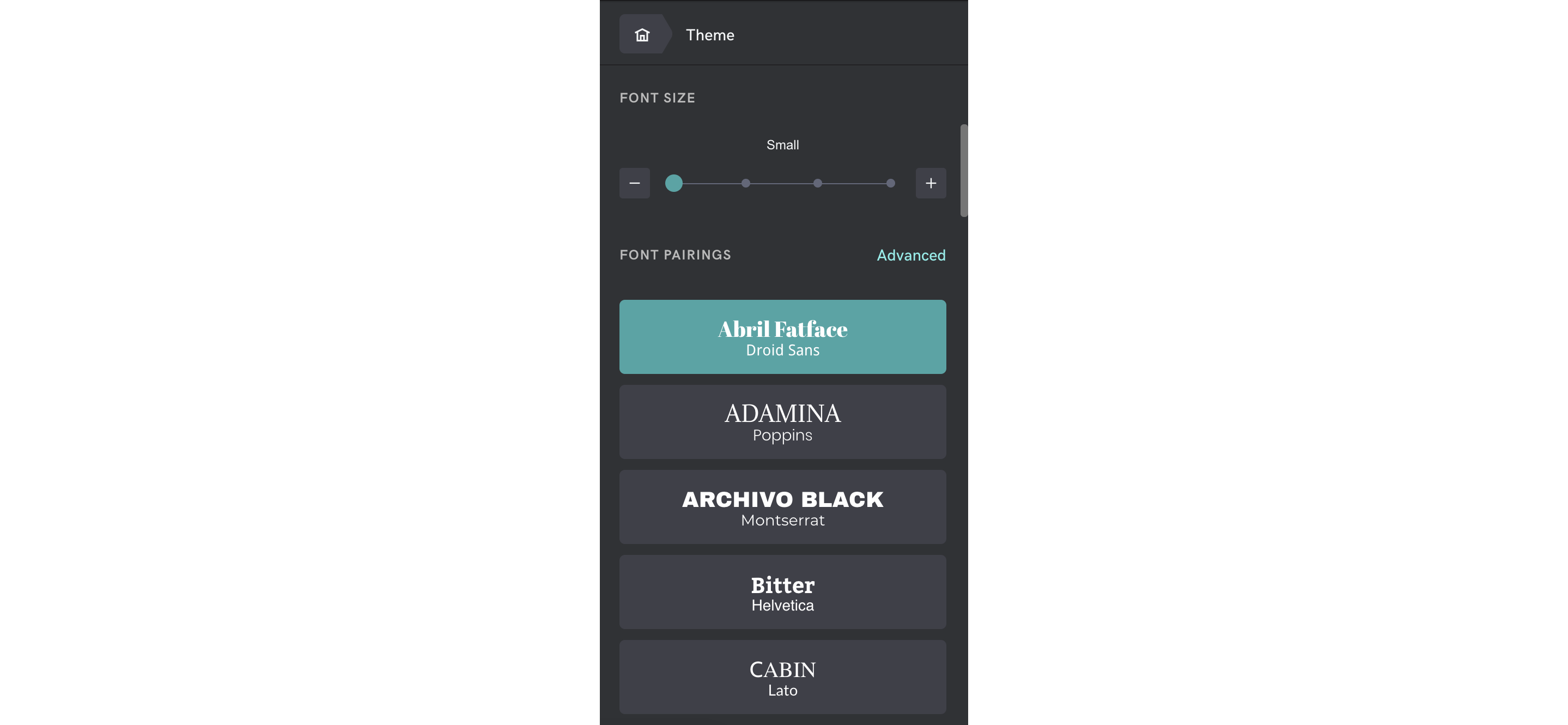 GoDaddy recently added the ability to customize the font within each template as this was previously impossible to change. The way this works is you choose a font pairing to use where one font is used for headings and titles and the other font is used for body text. As mentioned earlier, these are global settings for your website so you can't then change the font family or size for individual text areas.
There are 22 themes you can choose from with GoDaddy which is a definite improvement from when they first launched Website builder 8 when they had just 8. An awesome feature I haven't seen implemented by any other website builders is that the template preview images show your actual website as it would appear if you chose the template. This is super helpful but let down a little by slow image load times when scrolling through the page of templates but you can understand why this happens as the front page of your website has to be rendered by the template.
You should be able to find a template that you like among the 22 available as there is a good mix available.
Event Calendar
This is a useful add-on that supports two-way calendar syncing with Google, Office365, Outlook and iCal.
Online Store
Adding an online store to your website is done by adding the Online Store component and then adding the products that you wish to sell. If you have Square you can speed up your online store setup by importing your products from Square, auto-syncing inventories, and accepting online payments through the same account. One thing to beware of though; GoDaddy doesn't host the checkout form on your website, it actually redirects to another domain when you click. on the purchase button which could lead to reduce cart completion rates if potential customers are turned off by this.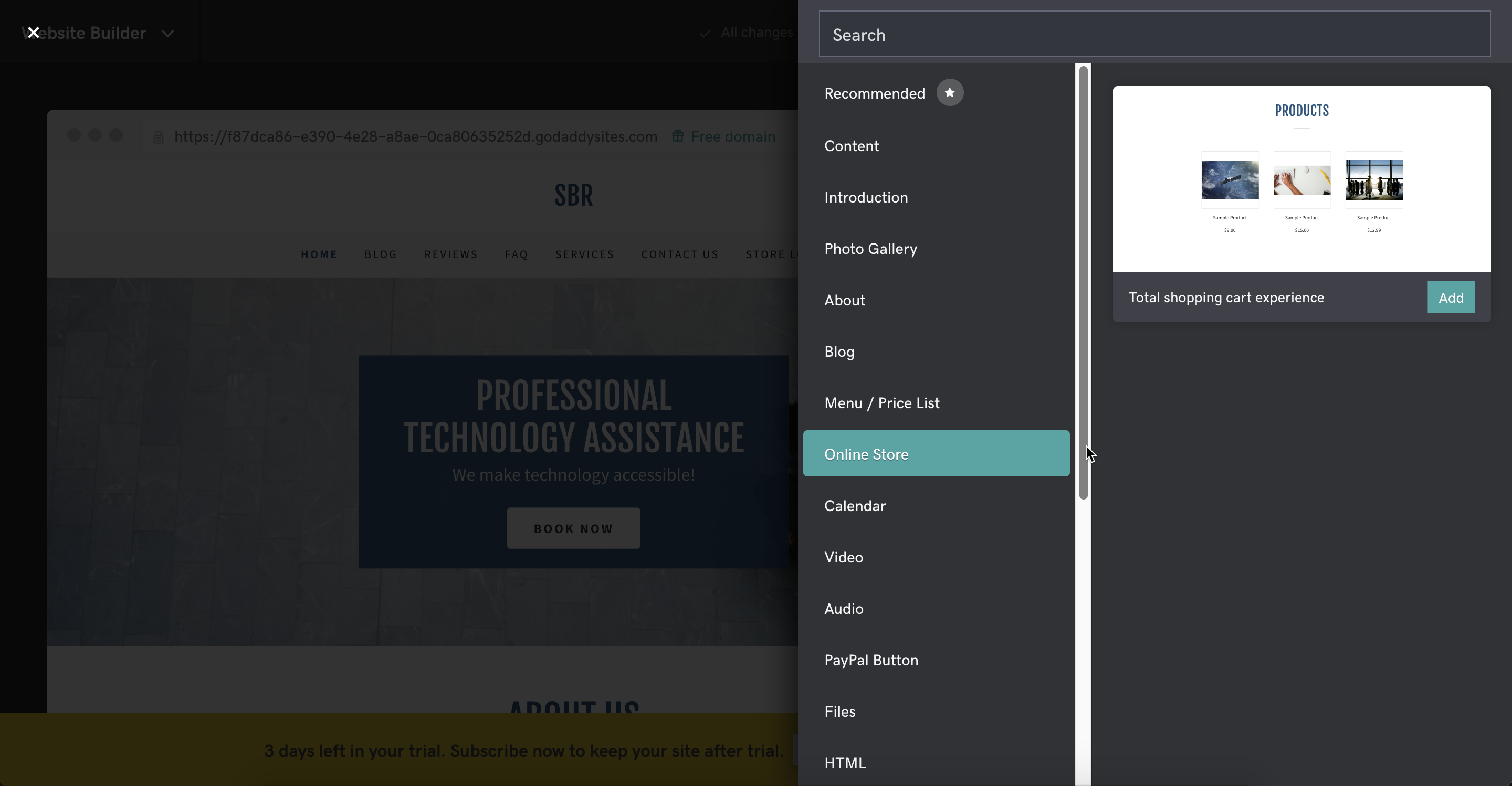 GoDaddy supports both Physical and Digital products where digital products are any kind of downloadable file which obviously includes image, video and software products. You'll need to upload any files that you would like your customers to receive and they will automatically receive download links after they order it.
GoDaddy can manage your inventory for you, tracking how you have of each physical item or it can retrieve this data from Square. You won't be able to link this to other inventory services though such as Amazon or Ebay although there are some third party tools which can link your Square inventory to these services.
You can create product variations (such as colors or sizes) through the Online store editor and set pricing independently for any of the variations. It's also possible to set up and charge for additional options such as gift wrapping, engraving or whatever add on services you are able to provide to your customers.
Shipping options allow you to calculate costs by weight, product dimensions, or by using a specific per-product shipping price. You don't get the flexibility and features of a dedicated e-commerce platform, but it's still far more useful than the very basic flat rate schemes used by many other website builders. You can also apply tax rules according to your location.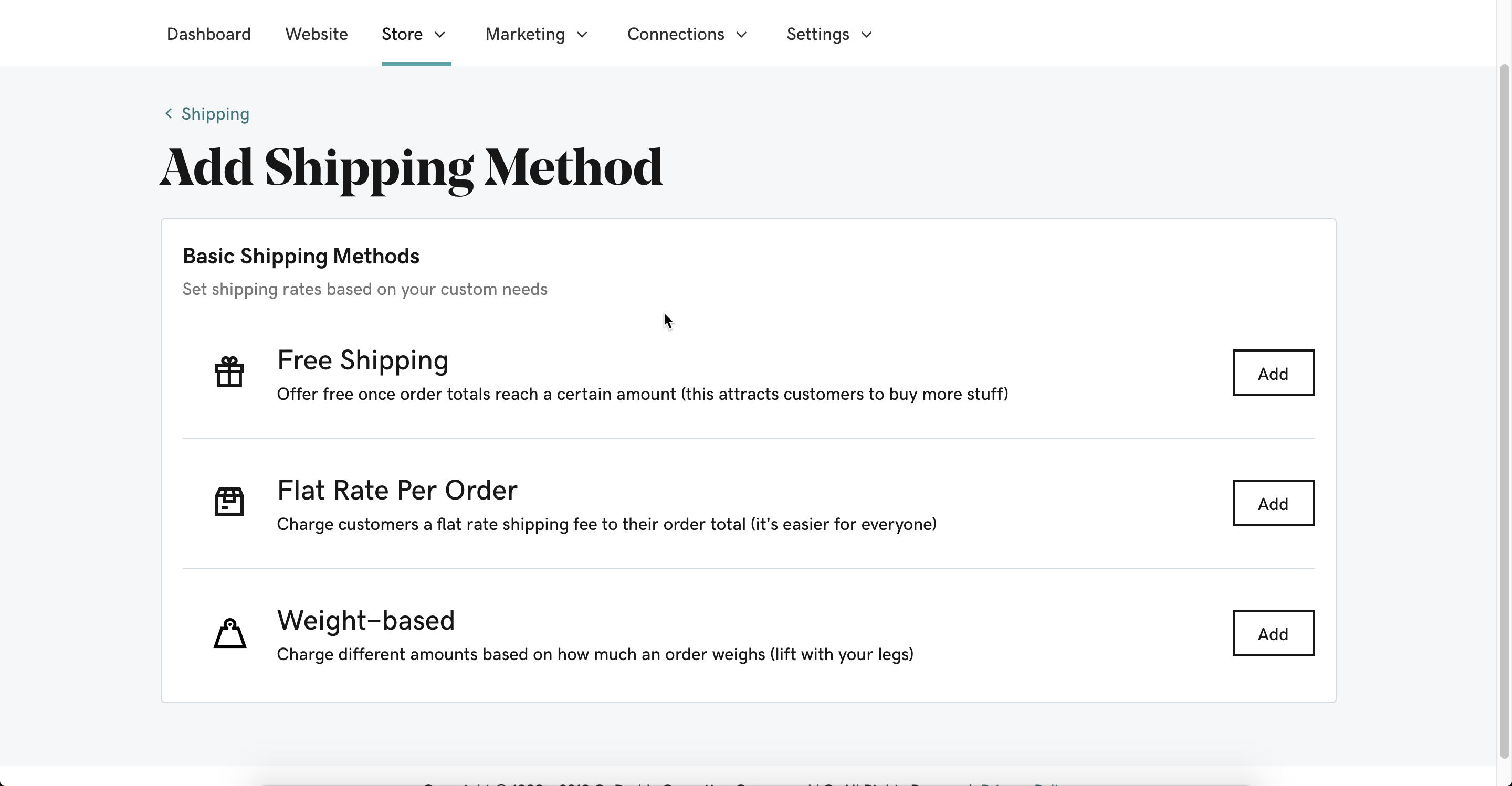 Abandoned cart support – often a premium feature elsewhere – allows you to send automated emails to remind customers to check out. Bonus features include the ability to build up subscriber lists and launch email campaigns, handy extras that (again) you won't always see with other builders.
Overall the Online Store is a well thought out, easy to use and intuitive feature (I think it's the best feature overall in this version of Website Builder) and ticks most of the boxes for smaller businesses and Ecommerce stores.
Online Payments
GoDaddy accepts payments using either Square, Stripe or PayPal. If you're looking for mobile payments via either Apple Pay or Google Pay you can accept both via either Square or Stripe (Stripe added Google Pay support in November 2019). These three payment systems give you access to all major credit card, debit card and mobile payment systems but Square and Stripe are quite limited in terms of which countries are supported.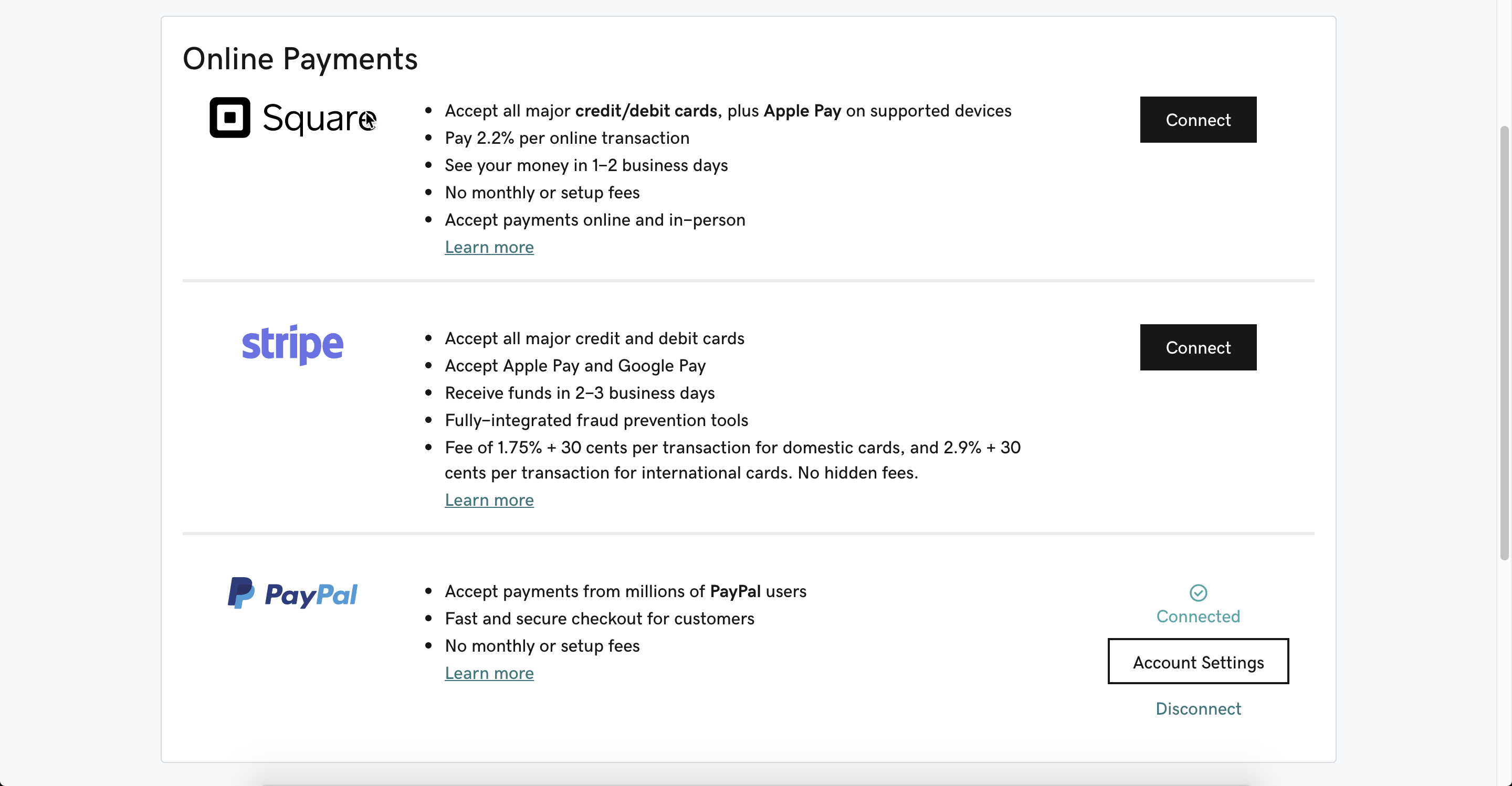 If you're expecting most of your transactions to be domestic in nature then Stripe will be the most cost effective at 1.75% + 30c per transaction (2.9% for international cards) and if you expect a mix of both then Square has a flat rate of 2.2% for all online transactions. Bringing up the rear on fees as always, PayPal charges 2.6% for domestic and 3.6% for international with a 30c surcharge on all transactions, however you do benefit from PayPal's market leading international coverage.
There is no App Store available so you'll be reliant on the built-in features that GoDaddy provide.
GoDaddy's website builder prices start at $10/mo and go up to $20/mo. Then, with an Ecommerce addition which is required if you want to use the Online Store module which includes the integrations with Square, Stripe and PayPal, pricing goes up to $25/mo.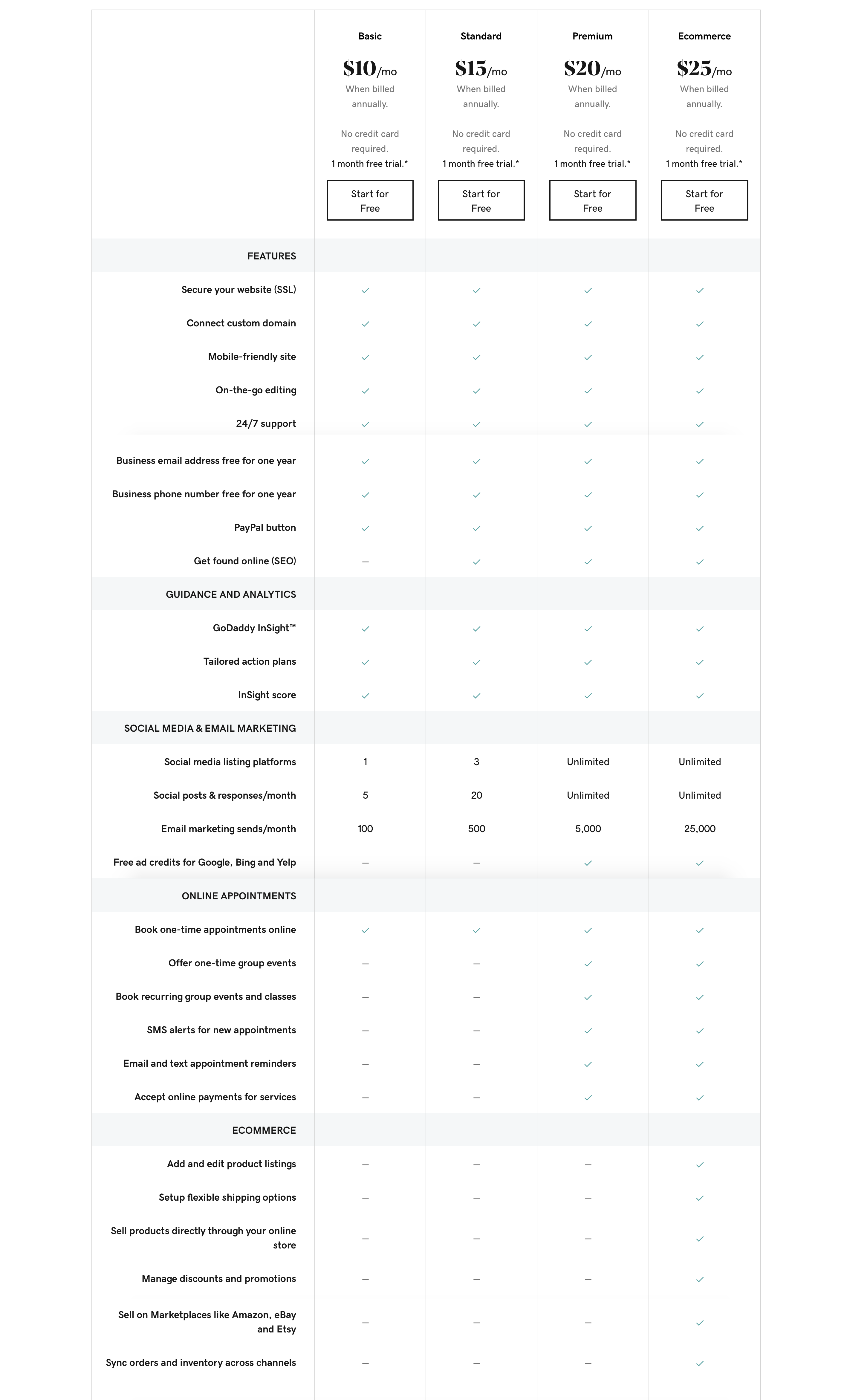 They all come with custom domain, SSL certificate, 24/7 customer support and website hosting but a domain name is not included in the price.
Pros
It's very easy to use and you really can get a website online in less than an hour
You can edit your website from desktop or mobile if that's important to you
Pricing plans are good value compared to their competitors
The online store is powerful and easy to use and is easily GoDaddy's strongest feature
Cons
Limited creative freedom available with lots of global settings for colors and fonts
There are only 22 templates available and they are all quite similar
Multi-language websites are not supported
I recommend GoDaddy Website Builder in it's current form particularly for beginners who plan to use it for their businesses or websites. It's greatest strength is it's ease of use and the speed with which you can build a website so if you need to get something onto the web ASAP and you don't have much experience then it's a good option to get you started.
The latest version of GoDaddy's website builder was rebuilt from the ground up to enable relative newcomers to website design to be able to design and launch their own website in less than an hour. In that respect it has succeeded in it's goals and is a great took for getting a website up and running quickly particularly for beginners. In particular, the online store is their strongest feature with most of the bases covered including shipping options, product variations / options and support for both physical and digital product.