Introduction
First, the overall numbers: As of today (6th January 2020) there are around 1.74 billion websites (source: Total number of Websites).
We took scan data from all 1.74 billion websites to analyze which content management software (and hence website builder software) runs on each web server and here are the results: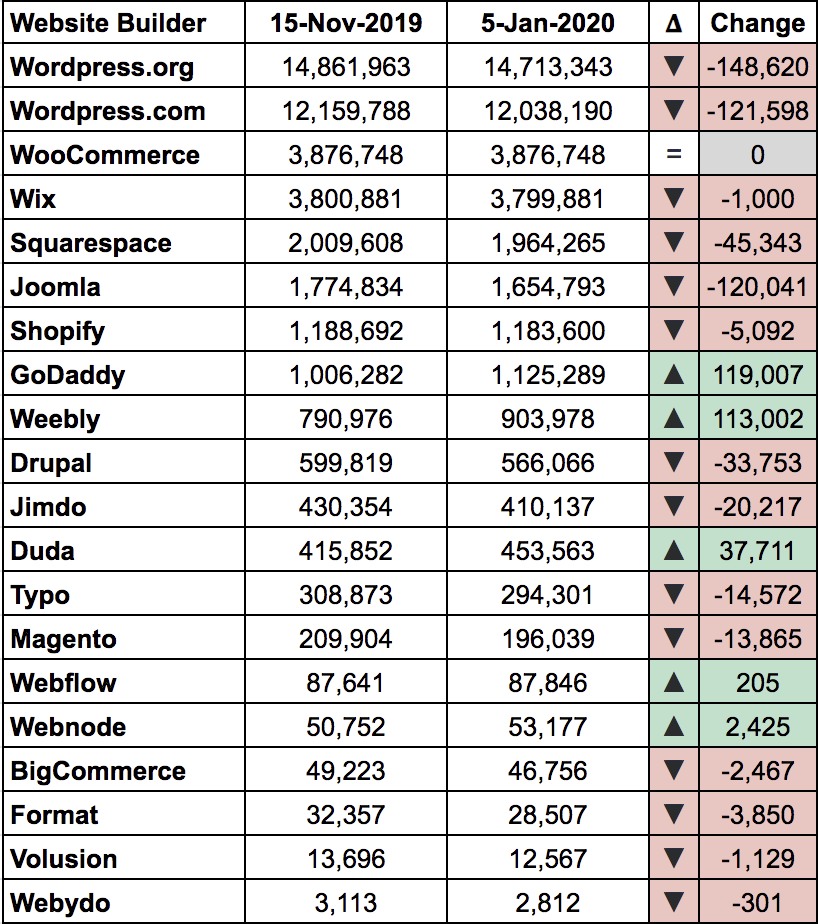 The Wordpress platform is still in an unassailable position at the top of the rankings, split about 50:50 between the self hosted WordPress.org where you fully manage your your own web server and Wordpress installation and Wordpress.com who host Wordpress on your behalf. The third entry on the list, WooCommerce is also part of the Wordpress platform as it's the most popular Wordpress theme and is used for eCommerce purposes so as before, the top 3 entries ALL represent Wordpress in some shape or form.
Major changes
The biggest gainers and losers this month are:
Biggest Winners
GoDaddy has increased from 1,006,282 to 1,125,289 active websites, an increase of 119,007 websites or a 12% increase.
Weebly has increased from 790,976 to 903,978 websites, an increase of 113,002 websites or a 14% increase.
Duda has increased from 415,852 to 453,563 websites, an increase of 37,711 websites or a 9% increase.
Biggest Losers
Wordpress has dropped around 270,000 installations since our last update or about 1% of it's installation base.
Joomla has dropped from 1,774,834 to 1,654,793 active websites, a decrease of 120,041 or a 7% decrease
Joomla has dropped from 1,774,834 to 1,654,793 active websites, a decrease of 120,041 or a 7% decrease
Overall Market Share
Overall, WordPress continues to maintain their impressive 70% market share for content management systems on websites with a known CMS. Here's how that market share looks overall: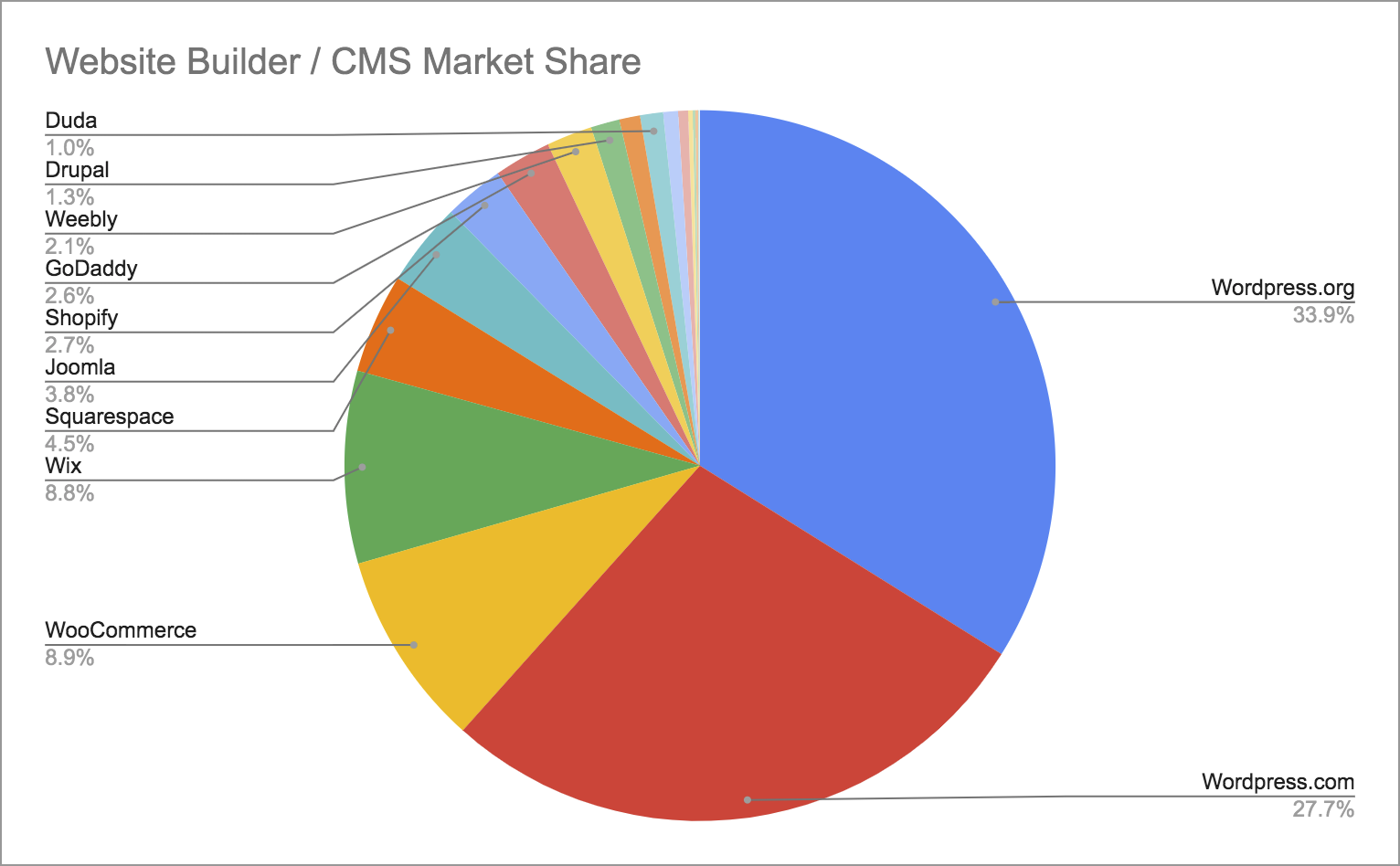 Summary
We continue to see the slow changing of the guard as the major legacy CMS platforms of Wordpress and Joomla slowly lose market share to more modern, beginner friendly website builder platforms such as GoDaddy, Weebly and Duda. These new platforms are also benefiting from heavy advertising programs conducted in the most valuable target markets of North America, Europe and Australia / New Zealand.
We expect this trend to continue over the remainder of 2020 as businesses choose website builder platforms which offer rapid on-boarding, prototyping and integrated hosting services for their new website or updated website needs.
Our next Website Builder and CMS platform market update is planned for March 2020, stay tuned until then!